At a Glance:
Acoustic drums: Drum Workshop with custom "Aztec Red Snakes & Arrows" finish; 23" bass drum

Electronic drums: Roland V-drums (with DW custom shells), KAT midi-marimba

Cymbals: Sabian Paragon with the addition of a new "Diamondback" effects cymbal

Sticks: Pro-Mark 747 wood tip Neil Peart Autograph model (Oak)

DW 14" Solid Shell (VLT), and 13" piccolo snare (VLT)

Drum tech: Lorne "Gump" Wheaton (with Chris Stankee filling in for a few shows while Gump was in the hospital)
Used to record:
"Caravan" and "BU2B" for Clockwork Angels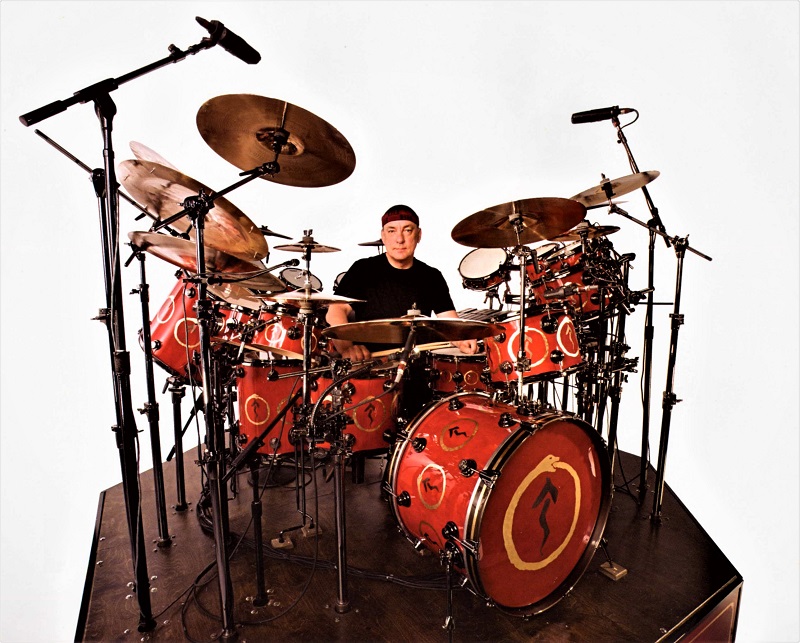 From the Snakes & Arrows tour book by Neil Peart:
After the 30th anniversary tour, the guys at Drum Workshop and I agreed that the R30 kit ought to be retired. I felt that way because it had been a true centerpiece of that tour (sitting center stage every night, after all), and I wanted to keep that "specialness." The DW guys, lead by John Good ("the Wood Whisperer"), felt that way because they thought they could do better.
In 2006, they built me a "West Coast kit" on which I recorded a few songs for my friend Matt Scannell, as well as Snakes and Arrows. Everybody who heard those drums was blown away by their sound, but John continued to develop his ideas—combining different combinations of laminates for the shells, like his "Vertical Low Timbre" innovations. Just as the West Coast kit had eclipsed the R30 drums in tonality and resonance, these new ones take it to what my teacher, Freddie Gruber, would call "another place." After I had rehearsed a couple of weeks on the West Coast kit, my drum tech, Lorne "Gump" Wheaton, put up the new ones, and I truly couldn't believe how different they sounded—how much bigger and warmer.

One of these drums is bigger—the 23" bass drum, which is another unique innovation of John Good's. Back in the 70's, when Rush were opening shows, I used to be able to go out front and listen to other drummers. I noticed then that 24" bass drums had a particular "kick" (for once the word is apt), but I preferred the playability and dynamics of a 22". John suspected that the 23" would combine the best of both, and he was right.
The "VLT" approach was also applied to the snare drum's shell, and it was another revelation—the best I have ever played, for both response and sound. The toms are 8", 10", 12", 13", two 15", 16", AND 18", with DW's Coated Clear heads. Remo supplies some of the other heads, while the drumsticks are Pro-Mark signature models.

In an earlier Web story, I noted that "black is the new gold," and this time the hardware is plated in black nickel. Likewise, "red is the new black," the finish is Aztec Red, inset with a pair of logos Hugh Syme and I created for the CD package. The Greek symbol ouroboros, or snaking eating its tail, surrounds a calligraphic rendering of my favorite road sign: the universal symbol for "winding road." (On a motorcycle or in a fast car, that's the best kind of "snake and arrow" you can see.") The repeating motif, in gold leaf and metallic gray satin over the Aztec Red, was created by DW's master painter, Louie Garcia (a true artist).

The cymbals are my signature Paragons, by Sabian, with a 22" ride, 20", 18", and two 16 crashes, 13" high-hats, 14" "x-hats,"8" and 10" splashes, 19" and 20" China types—plus our new innovation, the "Diamondback," with tambourine jingles.

DW once again provided custom shells for the Roland V-drums (the TD-20s), and the electronic stuff includes a MalletKAT, KAT trigger pedals, and a Dauz pad, all running through a Roland XV5080 sampler and Project X Glyph hard drives.
Photos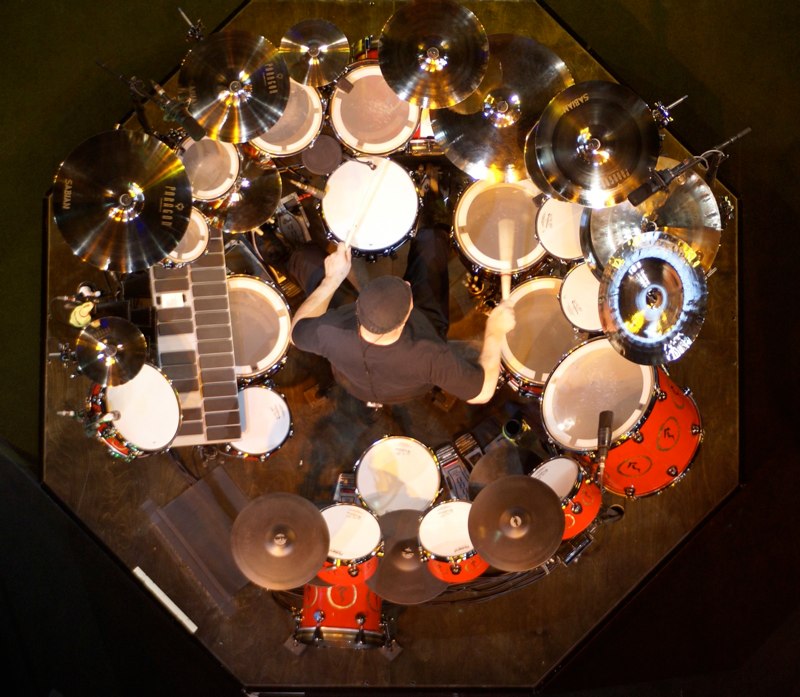 Pictures of Snakes & Arrows shells before they were put through the magical DW process (left):
"...here's a top secret spy photo of the new drumset DW is building for me to play on the upcoming tour. It incorporates several technical innovations developed by John Good since he designed the tobacco sunburst recording kit I used on Snakes and Arrows (formerly the "West Coast" kit, originally built for Matt Scannell's sessions early last summer). Many people have described those drums as the "best they've ever heard," but the new ones are going to be even better."
Drum setup photos - by John Arrowsmith (pyro tech and tour photographer for Rush)

From behind Neil's kit - by Ross Halfin

Drumhead - September October 2007

Interactive Artist page from Sabian.com

Infographic from Drum! Magazine, June 2007, by Rick Eberly
Note: P is incorrectly labeled in the infographic as a "10" V-drum..." This should be a "Dauz pad."

Snakes & Arrows Warm-up Kit
Neil has a warm-up kit backstage, where he spends 20-30 minutes getting ready for the show. This photo, taken backstage at the Gorge, Washington, has a few interesting details. First, Neil's using the classic DW high-hat stand design, with the flat legs. Note how this stand doesn't fit as closely to his double-bass pedal. Also, he has a basic cymbal set-up, including the new Paragon Diamondback cymbal (instead of a traditional China-type). Finally, the drumsticks do not appear to be the usual Pro-Mark 747s, but a Hot Rod or maybe something new.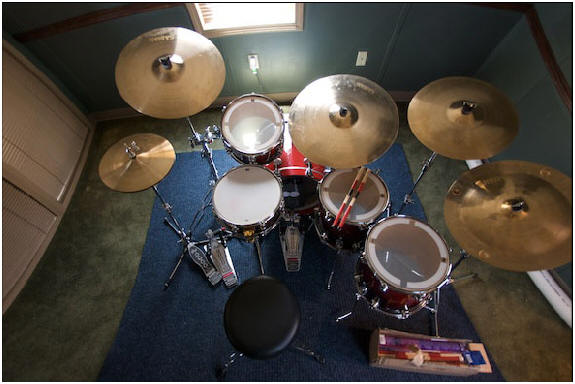 Current location
As of November, 2010, the Snakes & Arrows kit is in storage (confirmed by Neil Peart's drum tech Lorne Wheaton).