Sabian - Signature Paragon Model
Go to the Sabian Paragon page for more information.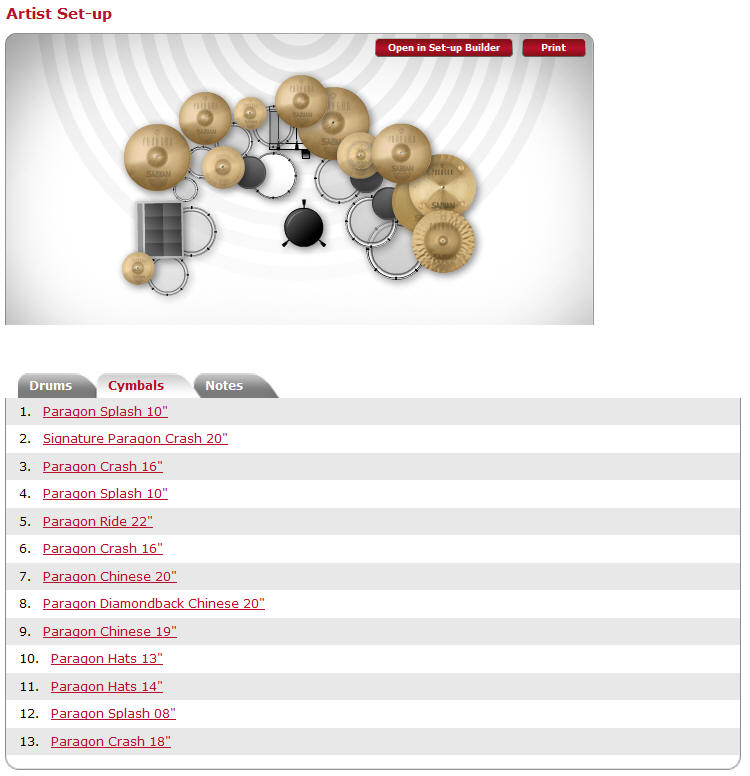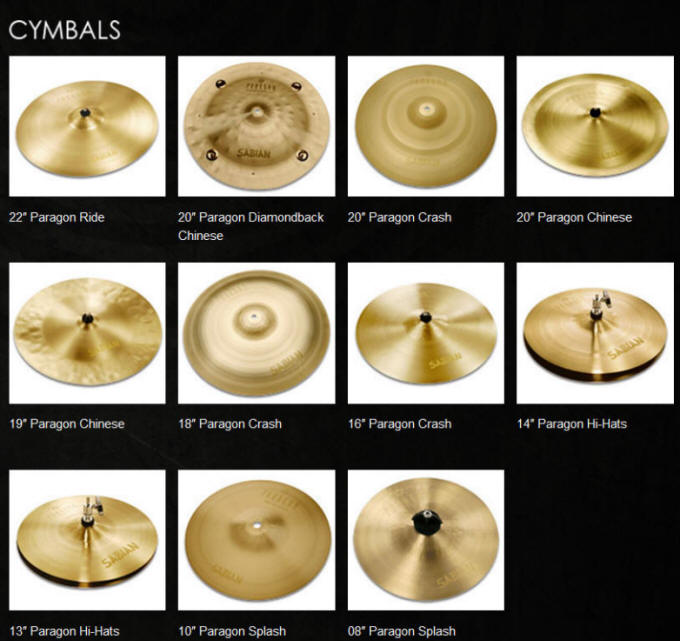 Paragon Pictures
Take a closer look at the Paragon cymbal. Neil's signature is imprinted on the bottom cymbal bell in gold ink: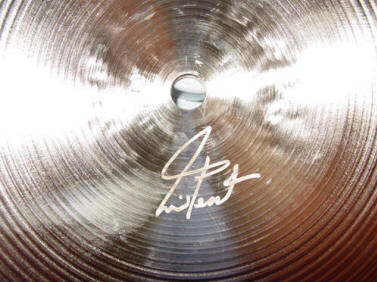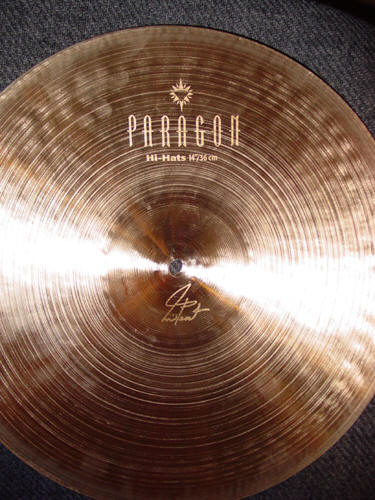 A MOTORCYCLE JOURNEY TO MEDUCTIC
By Neil Peart
IT WAS A RAINY DAY…

a really rainy day, in September, 2003, when I set out to ride my trusty old BMW from my house in Quebec to the SABIAN factory in Meductic, New Brunswick. It was dark (and rainy) when I left, at 5:30 in the morning, and every few minutes I had to wipe my face-shield with my glove, trying to see the road ahead.

That was the first six hours.

When I turned south at Rivière-du-Loup, and crossed into New Brunswick, the rain tapered off at last. For the next five hours, the day remained cold and windy, but dry, and I made a little detour to ride through the world's longest covered bridge (well, who wouldn't?). By late afternoon, I was awfully glad to reach the Holiday Inn and enjoy a hot shower and a Scottish beverage.

The next morning was bright and sunny, as I drove with my new friend, Bill Morgan, and my old friend, Lennie DiMuzio, to the SABIAN factory in Bill's Suburban. The autumn colours were just starting to brush the deep green woods along a wide stretch of the Saint John River above the Mactaquac Dam, a beautiful setting for the SABIAN complex, from the original barn-sized foundry to the modern array of offices and manufacturing areas. The forested river banks reflecting on the glittering water and the tree-shaded lawns gave new meaning to the words "industrial park."

Back in 1974, when I first joined Rush, I bought a 22" ride cymbal that had been made in that factory, and I was still using it, almost thirty years later. Recently I had been hearing some other drummers, friends of mine, playing SABIANs, and I'd been impressed. A few weeks before my visit, I played some samples from the regular SABIAN line, and, frankly, they blew my old cymbals off the stands.

Now I had been invited to visit the factory with the aim of creating a "signature" line of cymbals. A daunting challenge, to say the least, to try to contribute something new to a tradition dating back hundreds of years to the cymbal-makers of old Constantinople.

I might compare it to the notion of dining at a fine restaurant and barging into the kitchen to direct the chef. Or perhaps going to the BMW factory and expecting to design my own motorcycle, or to a Highland distillery to create my own single malt. Just because I appreciated the products didn't mean I knew anything about making them.

But I would soon learn more about cymbals than I had ever suspected, even after nearly forty years of sitting behind them and hitting them.

The first thing I noticed at SABIAN was the people - how nice they were - and the second thing was how much of the cymbal-making process was still done by hand; the craftsmen at the lathes cutting the grooves into one cymbal at a time, Charlie Brown with his shy smile and leather apron sitting behind a wooden block with a hammer, and cymbal master Mark Love sonically matching sets of cymbals in the famous SABIAN "Vault."

Mark showed me a row of dull gray disks, the raw bronze castings he had prepared for us to experiment with, and we decided to start with the all-important ride cymbal. At first he had its bow lathed, and left the bell raw. Interesting, but a bit "clangy," so Mark had Charlie Brown give it the hand-hammering treatment. Better, but still lacking in "nuance." Next we tried a combination of lathing and hand-hammering on the bell, and presto! That was what I wanted, a sharp, musical sound with a range of complex overtones.

I'm not sure if Mark naturally shared my taste in cymbal sounds, or just intuitively responded to what he saw I liked, but he was soon bringing me a selection of crash cymbals and hi-hats that really "worked" for me and the way I played. We began to discuss other possibilities for the sound and look of a line of cymbals that would be new and distinctive. By the end of the day my head was dizzy with new information (and from hitting all those cymbals!), and I was glad to join the SABIAN family on the porch overlooking the river, for cocktails and conversation on a beautiful September afternoon.

The next discovery came a few weeks later, after Mark and I continued our conversations by e-mail, and he sent me his latest "inspiration," some prototype crash cymbals with the AAX "pinpoint" lathing on the top, and the classic Turkish-style AA lathing on the bottom, combined with the hand-hammered bell, which we had decided to make a recurring theme on all the cymbals. The narrower grooves on top made for a fast, lively response, while the traditional wider ones on the bottom gave a full, rich tone. This combination proved to be exactly what I had been looking for in a crash cymbal: a unity of rapid attack and swell around a solid, musical sound with a smooth decay.

On my long ride home from Meductic (on another rainy day), I thought over all I had learned about cymbal-making, and what I wanted to "express" with this new line. Cruising down the wet, shiny highway and wiping the streaming drops off my face-shield, I also considered names for the line, wanting something that would reflect our aim of creating an excellent, highly-musical cymbal, crafted by a unique combination of traditional methods. I came up with Excelsior, and Heritage, and when I thought of the burnished, subtle appearance we wanted them to have, it suggested Patina.

But the name everyone liked was Paragon.

I thought of that word in the sense of the expressions "a paragon of excellence," or "a paragon of virtue," and the dictionary definitions were certainly in line with our intentions: "a model or pattern of perfection or excellence," "supremely excellent person or thing," "model (of virtue etc.)," "a perfect diamond weighing a hundred carats or more," "a large, perfectly round pearl."

Perfection, excellence, virtue - a diamond, a pearl, a gold-standard of cymbals. That's the sort of thing we wanted. (Well, yeah!)

And with all credit to Mark and the guys at SABIAN, and due deference to matters of taste, I think it's what we achieved.

On that September morning when I set out in the rainy gloom to ride those 600 miles to Meductic, I never imagined I was riding into an adventure that would teach me, inspire me, and reward me so much. And what a pleasure it is to have contributed to the design of the instrument I have been playing for almost forty years.

The journey continues.