At a Glance:
Acoustic drums: Drum Workshop with "Tobacco Sunburst" finish

Used during 2006

Electronic drums: Roland V-drums

Sticks: Pro-Mark 747 wood tip Neil Peart Autograph model (Oak)

DW 14" "Solid Shell"

Drum tech: Chris Stankee (for Burning the Days); Lorne "Gump" Wheaton (for Snakes & Arrows)
This kit was used to record:
| | | |
| --- | --- | --- |
| Band | Album | Year |
| Vertical Horizon | Burning the Days | 2006 |
| Rush | Snakes & Arrows | 2006 |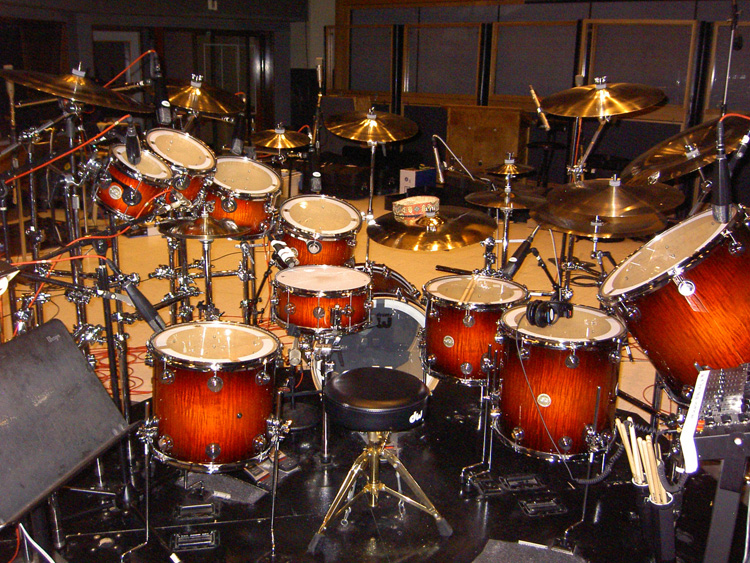 Neil "moonlighted" on a few songs for Vertical Horizon in 2006. Because his Rush drums were in Toronto as he worked on the new Rush album, DW created a recording "West Coast" drum kit for Neil to do this recording. Here are pictures and text from Neil's June, 2006, NEP news update:
... Thus it came to pass . . . on June 14, 2006, at Capitol Records Studio B in Hollywood (Hollywood and Vine, in fact), I recorded three songs for Matt's upcoming Vertical Horizon album. Even the drumset I played that day has a rich back-story, starting about two months earlier. While considering the logistics of getting my drums from Toronto to Los Angeles and back, I was talking with my friends at Drum Workshop, and they pointed out that some busy drummers have a different drumset for each coast, stored and ready when they need it. Since I lived on the West Coast now, maybe I should have a "West Coast kit."

Well, yeah, obviously. So in talking to John Good at DW, we decided to build a pure "recording" kit, with basic chrome hardware and a natural wood finish. John designed an elaborate combination of laminates and reinforcement hoops for each individual shell, and Garrison, the company's "artists' rep," started organizing the hardware. I would ship down my own set of Paragon cymbals (properly worked-in after the R30 tour) and a few favorite snare drums, plus a set of the "drum boards" on which my kit is mounted, so the stands could be screwed right into it.
That was going to be helpful for another reason. My invaluable and expert drum tech, Lorne (Gump) Wheaton, was going to be starting a tour with Steely Dan's great drummer, Keith Carlock, just before my sessions with Matt, so he wouldn't be able to be there. However, Garrison offered his assistance, and I also called upon my friend Chris from Sabian's Los Angeles office. Chris had traveled with Lorne on the "S.S. Professor" tour the previous year, demonstrating my "R30" drumset all around the U.S. and Canada, so he knew the setup as well as anyone else apart from Lorne. Chris is a fellow motorcyclist (Ducati Multistrada), and on June 7 he and I rode up the Pacific Coast Highway to the Drum Workshop factory, to see how the new kit was coming together.
Lorne and I had decided on a "tobacco sunburst" finish, like a classic guitar, but when John chose "curly maple" for the base of it, and master painter Louie applied his artistry, they looked way better than I had imagined. And once I started playing them, John's painstaking design of their acoustic properties paid off, too — people coming in from outside the showroom remarked on how good they sounded even from outside.
Photos
Current location
As of November, 2010, the West Coast Recording kit is in storage (confirmed by Neil Peart's drum tech Lorne Wheaton).