For this concert in October, 2008, DW made Neil a new, smaller kit. Michael D.F. Lowe (of NeilPeartDrumsticks.com) received the specs from Lorne Wheaton (drums and hardware) and Chris Stankee (cymbals) and sent them to me (thanks, Michael!). Reader Rodrigo Delaveau sent additional details about the snare. I attended this concert and posted the Buddy Rich Memorial Concert page.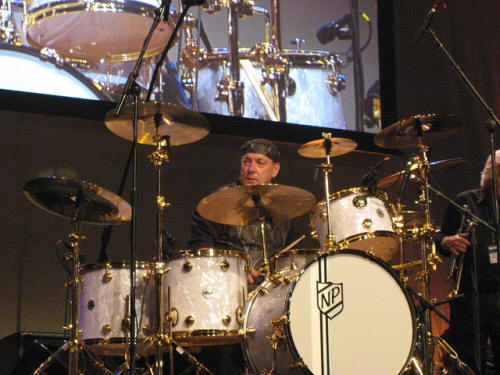 Drums and hardware by DW
Finished in White Marine Pearl with Gold Hardware
Snare: 10 ply, 6.5x14, VLT (sent to reader Rodrigo Delaveau

by DW)

Toms: 9x13, 13x15, 14x16, 14x18
Bass drum: 16x23
9934GD Tom/Cymbal Stand with 798GD Dogbone and Cymbal Arm
2 - 770GD Bass Drum Mounted Cymbal Arms
3 - 9700GD Straight Cymbal Stands
9500TBGD Hi-Hat Stand
9300GD Standard Snare Stand
9100MGD Round Seat Drum Throne
9002 Double Pedal
Cymbals by Sabian
14" Artisan Hats
6" Sabian Cymbal Disc; 10" Paragon Splash
16", 18", 20" Paragon Crashes; 19" Paragon Chinese
20" Paragon Diamondback Chinese
20" Artisan Symphonic Crash with a custom lathed
and hand hammered bell (used as the Ride)
Sticks
Pro-Mark Joe Morello model
Heads
Notes:
Hardware is gold plated to match set (except double bass pedal).

Bass drum has a D6 Audix bass drum mic installed inside with a May avc2 no drill adapter.
E-mail sent from Dale's Drum Shop (thanks Rushisband and RIAB reader Scott G.)
It's here and set up fresh from the show - played heads and all!

Stop in and see it when you can.

We plan on having this great piece of drumming history on display for a long time. We want everybody to be able to check it out up-close, but eventually it's going to have to be packed up and stored for safekeeping.

Cymbals from the show were not an option for us so we're working with Sabian on getting some accurate replicas to keep this as historically correct as possible.

If you didn't make the show and can't get here before we pack it up you'll still be able to see and hear the kit on the next Buddy Rich Memorial Concert DVD.

Enjoy!

Photos taken by Michael D.F. Lowe of NeilPeartDrumsticks.com (to see all his BR2008 photos go to his Buddy Rich Gallery):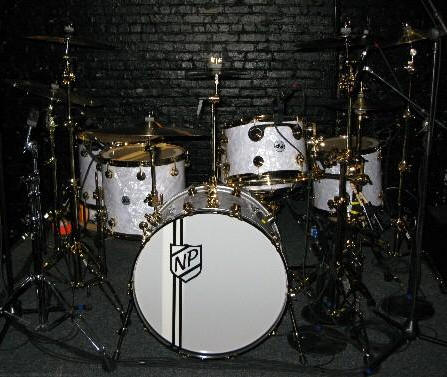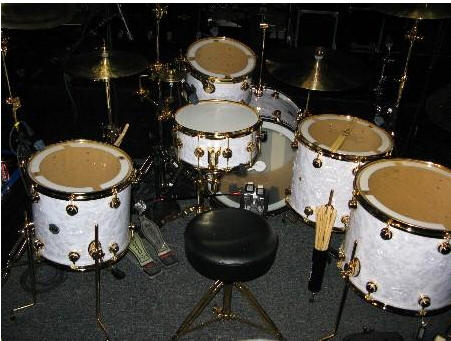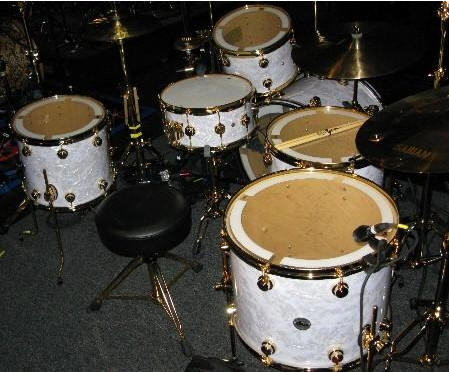 Neil also used this drum kit for sections of his Drum Channel Master Class (filmed before the Buddy Rich event). (This class is no longer available on the Drum Channel website.)