Neil Peart Biography
Neil Peart (pronounced "Peert" not "Pert"), born September 12, 1952, near Hagersville, Ontario, is the drummer and lyricist for the Canadian rock band Rush. Rush is the most successful band from Canada, having played together for close to 40 years, and selling 27 million records in the U.S. and over 40 million records worldwide.
Over the years, Rush has developed their own style of progressive rock, weaving together heavy metal, art rock, reggae, new wave, pop, grunge, and classical styles with thoughtful lyrics. The result has been 20 diverse studio albums, 9 live albums, 10 video albums, successful tours, and a fiercly loyal fan base. Rush's latest studio album, Clockwork Angels (2012) is considered one of their best by both the fans and critics.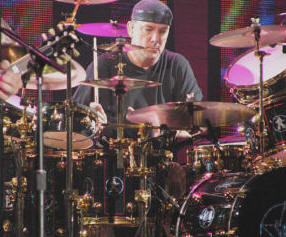 As a drummer, Peart is known for his large drum kits, creative and intricate parts and extensive drum solos that delight both drummers and non-drummers alike. He's won many reader's poll awards from Modern Drummer, including 12 consecutive "best recorded performance" awards. In 2013, he won the MVP award and Best Prog Drummer for Modern Drummer.
Peart is has continued to learn new techniques and approaches to the drums, studying with Jazz drummers Freddie Gruber and Peter Erskine. He's written that his goal was to become more of an improvisational drummer. In recent tours, he's left entire sections of his solo open for improvisation.
When not busy with Rush, Peart has recorded or performed with Vertical Horizon, the Buddy Rich Band, and others. In 2008, Peart returned to New York City for a Buddy Rich Memorial concert. In 2009, he also recorded a new version of "The Hockey Song."
In addition to his job as a musician, Peart is a proflic writer. He's written six non-fiction books, including The Masked Rider, Ghost Rider, Traveling Music: The Soundtrack to My Life and Times, and Roadshow: Landscape With Drums: A Concert Tour by Motorcycle, and Far & Away: A Prize Every Time. He's also written many articles for Modern Drummer and other magazines, and frequent blog entries for his website NeilPeart.net. For the Clockwork Angels album, Neil Peart collaborated with writer and friend Kevin J. Anderson on a Clockwork Angels novel, which became a New York Times beststeller.
Peart lives in the Los Angels area with his wife Carrie Nuttall (married in 2000) and daughter Olivia (born in 2010). Before this time, Peart was married to Jackie Taylor for 22 years, and they had one daughter Selena. In 1996, Selena died in a car accident, and then Jackie died a year later of cancer. Peart chronicled his story of loss and his recovery in his heartwrenching book, Ghost Rider.
Essential Rush recordings include: Fly by Night (1974), 2112 (1976), Permanent Waves (1980), Moving Pictures (1981), Exit... Stage Left (1982), Grace Under Pressure (1984), Power Windows (1985), Roll the Bones (1991), Counterparts (1993, Vapor Trails (2002), and Clockwork Angels (2012)
Trivia and facts about Neil Peart
He officially joined Rush July 29, 1974.
In his spare time, Peart rides BMW motorcycles, drives fast cars, snowshoes, bird watches, and hikes.
His favorite drink after a concert or a long day on the road is The Macallan.
Peart's nicknames are "Pratt" and "The Professor."
His drum style is inspired by countless drummers, but he's mentioned Keith Moon of the Who as one of his most important early influences.
He's appeared in several films as himself, including I Love Your Man and Adventures of Power.
In 1996, he became an Officer of The Order of Canada, the highest civilian decoration in Canada.
In 2013, after years of eligibility, Rush was inducted into the Rock and Roll Hall of Fame. At the mere mention of Rush's name by Jann Wenner, Rush got a 2-minute standing ovation.
Peart has said that he's a "bleeding heart libertarian."
His website includes section on cooking called "Bubbas Bar 'n' Grill," which has recipes, cooking techniques, and even a forum.
For the Clockwork Angels tours, Peart has fired t-shirts out of an air cannon at the beginning of the encore.