Rush: The Words and the Pictures - Volume 1
Updated: 09/23/2017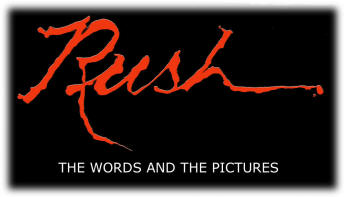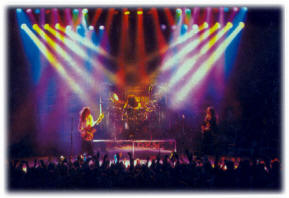 Volume 1
The Words and the Pictures (Volume 1) is a book published in England around 1979. It includes pictures of Rush, along with facsimiles of Neil Peart's original handwritten lyrics sheets for select songs from Fly by Night, Caress of Steel, 2112, A Farewell to Kings, and Hemispheres. Some of the lyrics sheets have appeared in Rush tour books and CD sleeves, but usually as small images that were hard to see.
Like his drumming, these lyrics sheets show the importance Peart places on detail and craftmanship. Even though these sheets were never meant to be seen by the public, Peart's effort shows a commitment to this step of the process.
Peart stopped creating these handwritten lyrics sheets around Hold Your Fire, when he started to compose lyrics on the computer. When he delivered the Hold Your Fire lyrics sheets, Geddy found them too cold to work with. So Peart went back and printed out the lyrics in a warmer font.
If you're looking to buy these books, they're long out of print. You can occasionally find them on eBay.
Go to The Words and Pictures 2.
All lyrics on this page Copyright © 1974 - 2017 Anthem Entertainment
*All Rights Reserved
*For Promotional & Private Use Only
*It is Strictly Prohibited to Redistribute, Republish, Reproduce or Profit From The Content Found Herein