Updated: 03/11/2018
At a Glance:
Drums: New Tama Artstar "prototype" in Candy Apple Red finish with "Vibra-Fibing"; brass plated hardware

Used from 1982 - 1985

Cymbals: Avedis Zildjian, Wuhan (China type)

Notable changes: New "parallel" percussion rack system replaced the "angled" system introduced during Hemispheres tour; crotales moved from above tubular bells to left rack; removed one triangle and Burma Bell.

Sticks: Pro-Mark 747 wood tip (played "backwards")

5.5 x 14 "Old Faithful" Slingerland Artist Model snare with Candy Apple Red finish: 3-ply shell with 8 lugs

Drum tech: Larry Allen
Used to record and tour:
Signals drum layout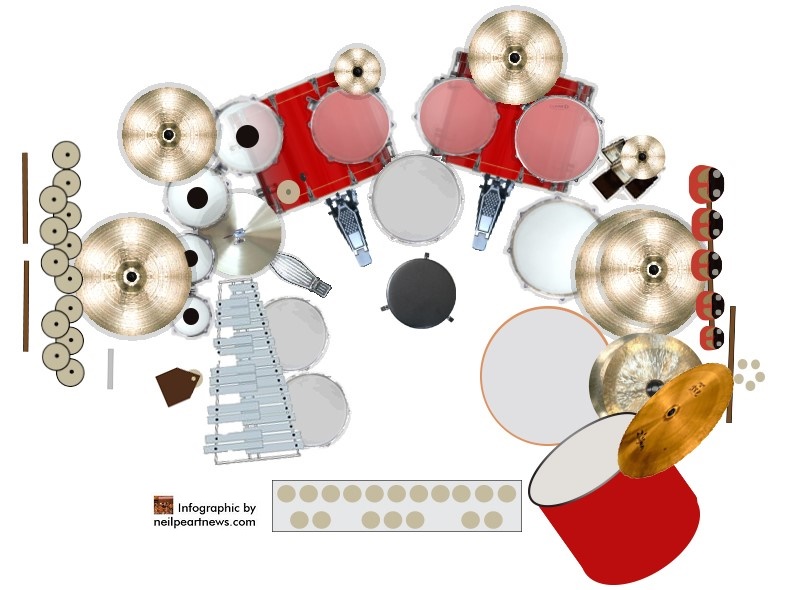 From the Signals tour book, by Neil Peart
Well, well! Hello again for another tour! (This is getting to be habit forming!) I've got some new drums to tell you about. Once again, they are Tamas; with the custom candy-apple red finish, the brass plated hardware, and the Vibra-Fibing of the inner shells performed by the Percussion Center of Fort Wayne. The sizes remain the same: two 24" bass drums, 6", 8", 10", and 12" concert toms, 12", 13", 15", and 18" closed toms, and 20" and 22" gong bass drums. My snare is still the same old wood-shell Slingerland, and I am using the Tama wooden timbales with great satisfaction.

Photo of Neil Peart by Steve Baker
With the exception of the trashy Chinese cymbal, all my cymbals are by Avedis Zildjian. They are: 8" and 10" splash, 13" High Hats, two 16" crashes, one each 18" and 20" crash, a 22" ride, an 18" Pang, and a 20" China Type.
In the Department of Percussion Effects are orchestra bells, tubular bells, wind chimes, temple blocks, numerous semi-melodic cowbells, triangle, bell tree, and crotales.
There are Remo Clear Dot heads on the snare and bass drums, Evans Heavy Duty Rock on all the toms and the gong bass drums, and Evans Tom-Tom models on the bottoms of the closed toms. These are all non-Hydraulic heads. I use clear Remos on the timbales. All of the stands and hardware are by Tama, and I am still using Promark 747 sticks, with the varnish removed from the gripping area by Larry.
And that's all!
The genesis of Artstar drums
"During the mixing of our second live album Exit, Stage Left in the summer of 1981, I was hanging around Le Studio in Quebec with not much to do. They had an old set of English Hayman drums kicking around that had formerly belonged to Corky Laing from Mountain, and I started restoring them — taking apart each tension casing and cleaning and lubricating them, drum by drum, polishing the rims and hardware, and putting on new heads. When I put them together, they had a wonderfully resonant sound that seemed to be due to the thinness of the shells. Thinking about that concept, I related it to violins or acoustic guitars, or the sounding board on a piano, and Tama agreed to experiment with a shell design along those lines. That became the Artstar line." (Drum! Magazine: "Mean Mean Stride: The drums of Neil Peart")
Photo gallery
After Rush
Go to my page that details the owners of this kit from 1987 to present.