Updated: 03/17/2018
At a Glance:
Drums: Tama in custom Rosewood finish with "Vibra-Fibing"

Used from late 1979 - 1981

Notable changes: Wooden Tama timbales instead of metal; 28" tympanum and gong replaced with Tama gong bass drums; burma bell added to percussion lineup.

Cymbals: Avedis Zildjian, Wuhan (China type)

Sticks: Pro-Mark 747 wood tip (played "backwards")

5.5 x 14 "Old Faithful" Slingerland Artist Model snare with original Copper Wrap finish: 3-ply shell with 8 lugs

Drum tech: Larry Allen
Used to record and tour:
Moving Pictures drum layout
Below is a diagram of Neil Peart's Moving Pictures drum layout. Go to an interactive version of this diagram, which includes information about every piece of this drum kit.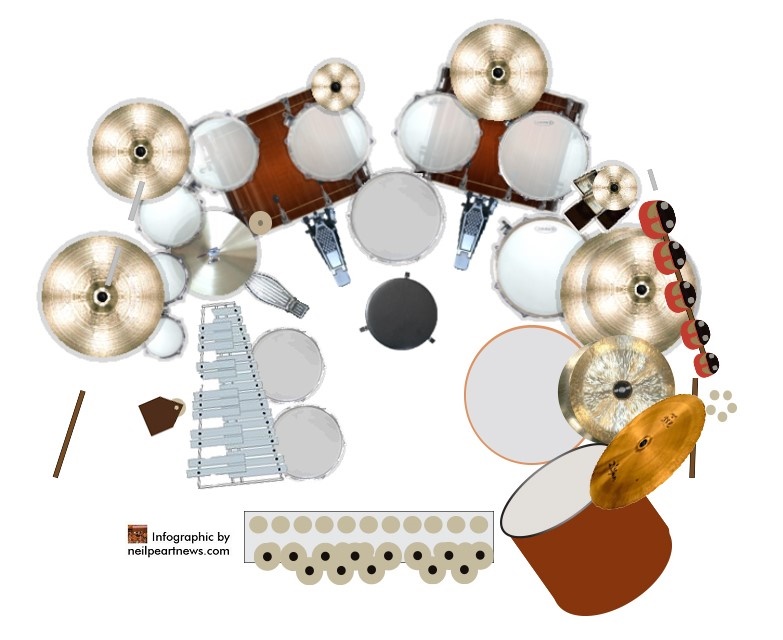 From the Moving Pictures tour book, by Neil Peart
I am still releasing my hostilities on Tama drums, all with wooden shells, and the inner side 'Vibra-Fibed.' The bass drums are 24", the toms are 6, 8, 10, 12" concerts, and 12, 13, 15, and 18" closed toms. I am still using my "old faithful" wood-shell snare, a 5 1/2 x 14 Slingerland, and have recently made a switch to wooden timbales, and retired my tympani and gong in favor of a pair of Tama "gong bass drums," which are open-ended bass drums on a stand, utilizing oversize heads to give a very deep, resonant sound.

My cymbals are Avedis Zildjians, with the exception of one genuine Chinese China type. The Zildjians are 8" and 10" splash, 13" high-hats, two 16", and one each 18" and 20" crash cymbals, a 22" ride, an 18" pang, and a 20" China type.
In the Percussion Department are orchestra bells, tubular bells, wind chimes, temple blocks, cowbells, triangles, bell tree, crotales, and Burma bell.
I use Remo clear dots on my snare and bass drums, Ludwig silver dots on the concert toms, and Evans Looking Glass (top), and Blue Hydraulic (bottom) on the closed toms. Clear Remos are used on the timbales and gong bass drums. Ludwig pedals, Slingerland hi-hat, Tama hardware, and Pro-Mark 747 drumsticks are the final details.
Photo gallery
After Rush
Adam Roderick won the kit as part of a
Modern Drummer drum giveaway
and used the kit in his Rush tribute band Trilogy. See this
Facebook photo album
of the kit being delivered by Neil's then drum tech Larry Allen, as well as pictures of Adam meeting Neil backstage. He also got to sit behind the
Power Windows
kit during soundcheck!
Fan replicas
Click an image to go to its replica page.



Back to Top