Neil Peart DW Limited Edition Icon snare
At the NAMM 2014 show, DW introduced three new Collector's Icon Series snare drums to honor Neil Peart (Time Machine), Roger Taylor (Queen's crest), and Nick Mason (Dark Side of the Moon). You can download the PDF brochure here.
If you're interested in buying one of these, DW is only making 250 of each. In the U.S., RUPPS Drums is selling these snares for $1499.95 (the list price is $2,307.00). Drum-Stop in England has the Time Machine drum listed for 1399 pounds. For other buying options, DW recommends contacting a dealer from their locater map. In the past, Neil Peart limited edition items have sold out, so if you're interested I wouldn't wait.
Legend
DW has also released a handy inlay legend (PDF) detailing the different woods used in the snare. The designs and colors aren't created by stencils and paint, but by inlaying different woods into the drum itself.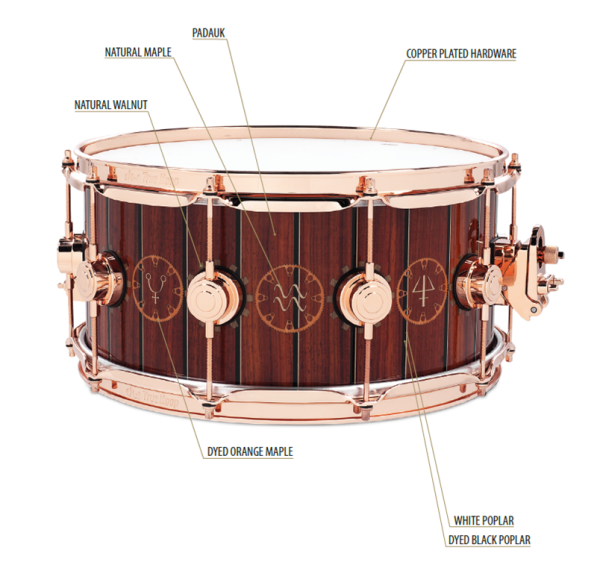 Wood info
The dark wood used throughout the drum is padauk.
The Time Machine symbols are made of natural maple.
The gears surrounding the Time Machine symbols are made of dyed orange maple.
The cogs around the lugs are made of natural walnut.
The vertical borders are made of white poplar and dyed black poplar
Facts
DW is making 250 of each snare.
The Time Machine Icon snare drum is a 6.5x14-inch 10-ply Collector's Series Maple VLT (Vertical Low Timbre).
A portion of the proceeds will go to the charities of each drummer's choice. Neil Peart's charity is The Princess Margaret Cancer Foundation in Toronto, Canada.
Promo video