| | | |
| --- | --- | --- |
| Time Machine Rehearsal Kit | | |
Updated: 11/26/2017
In preparation for the Time Machine tour, Neil Peart used a unique drum kit at Drum Channel for rehearsals that was pieced together from a few different kits. In his May 2010 update "Time Machines," Peart wrote about the recording session for the first two Clockwork Angels songs, "Caravan" and "BU2B," and his subsequent rehearsals:
I was using the Snakes and Arrows kit for that session, and now, rehearsing for the tour at Drum Channel, I was playing a mish-mash of a setup, based on the "Hockey Kit," that Gump had successfully assembled for me to work with — because just around the corner, at Drum Workshop, a spectacular new drumset was under construction, down to the final details of finishing and assembly. Sometimes Gump and I took a "field trip" over to the factory, to check on its progress.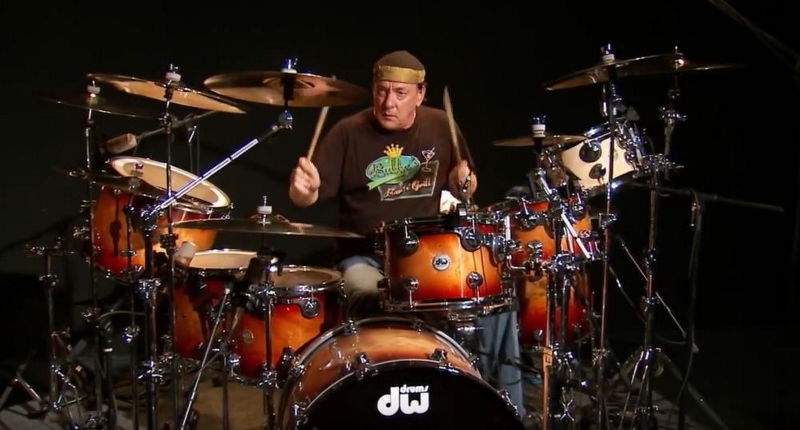 Some unique aspects of this kit include:
The 8- and 10-inch concert toms appear to have a "Natural" finish.
The remainder of the kit appears to have a "Burnt Toast" or a variation of "Tobacco Sunburst" finish. (It looks very similiar to Neil's West Coast Kit, but appears lighter.)
The 18-inch gong bass drum is set closer to a horizontal angle (looks like 30-degrees instead of 45-degrees).
Missing cymbals (from Neil's typical setup) include: 20-inch China, 19-inch China, 14-inch X-hat, and the far left and far right splashes.
This drum kit would also appear in two video releases:
Rush: Beyond the Lighted Stage (Peart is playing "The Hockey Song" on this kit in his intro segment [and breaks a bass drum head]).
2112+Moving Pictures Classic Album (screenshots on this page were taken from this video)
Photo Gallery
Where is this kit now?
Unknown
Special thanks
To reader A.L. Parrott for suggesting that this kit be added to Neil Peart's drum history.